Our home in Marlborough, New zealand
Marlborough
A Diverse landscape, marked by expansive flat valleys, streams, jagged hills and Mountains.
---
Largest wine producing region
As well as being home to the idyllic Marlborough Sounds, it is the largest wine producing region in New Zealand.
---
2,400
Sunshine Hours
Marlborough is one of New Zealand's sunniest and driest areas: the region receives about 2,400 sunshine hours per year. Warm days, cool nights and an average daily temperature of18º C (64º F) ensure that Marlborough wines possess vibrant fruit flavours, firm acidities and heightened aromatics.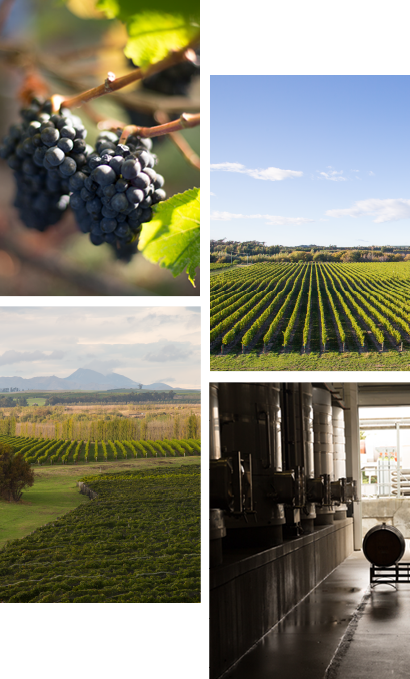 Harvest
We harvest fruit from both estate and grower vineyards located in Marlborough's two marquee regions.


Awatere
Valley
This region takes its name from the local river and is the cooler of the two regions. It features a unique stony Greywacke alluvium soil that is well draining and ideal for grapes. Wines from Awatere are known for their higher acid levels and distinct minerality.
Wairau
Valley
Located to the north of Awatere, this region derives its name from the Wairau River which flows from the mountains in the west to the ocean at Cloudy Bay. It possesses shallow, stony, fast-draining soils that encourage low yields and vibrant, tropical fruit characters.

Sustainable Winegrowing
NEW ZEALAND
– Sustainable Winegrowing –
Preserving our environment and the quality of our wine.
Sustainable Winegrowing New Zealand (SWNZ) was established in 1997 to help the industry elevate their performance in environmental, social and economic sustainability issues. Today, the SWNZ sets standards for vineyards and wineries that help preserve the environment and increase the quality of our wines. The group also manages communications with the public on the evolution and impact of our industry.
Vineyards
WE HARVEST FRUIT FROM BOTH ESTATE AND GROWER VINEYARDS LOCATED IN MARLBOROUGH'S TWO MARQUEE REGIONS: THE AWATERE AND WAIRAU VALLEYS.

All of our vineyards are sustainably farmed and Clifford Bay Winery is Sustainable Winegrowing New Zealand certified.
All estate vineyards used in Clifford Bay wines are certified by SWNZ

All winemaking and bottling facilities are accredited by SWNZ

Soil and vine tests are conducted by an independent expert who makes recommendations based on soil type and grape variety

Cover crops are planted to attract beneficial insects as well as to encourage nitrogen and other nutrients in the soil
Moisture in the soil is measured to determine the least amount of water necessary to sustain healthy vines

Irrigation audits are performed regularly
The Clifford Bay team is trained in pest and disease monitoring protocols

Mowers dispense clippings under the vines to enhance organic matter in the soil